Over the next week, I will be taking a look back at the disappointing '10-11 football season. We start with the postseason awards.
MVP: LUKE KUECHLY
I sort of struggled with this one. I debated between Luke and Montel. However, I realized that Boy Wonder had a historic season. He led the nation in tackles with 171, 12 shy of an NCAA record. He reached double-digits in tackles every game and also had 4 interceptions and 2 forced fumbles. Harris had a great season, but Kuechly was the anchor of one of the best rush defenses in the country.
ROOKIE OF THE YEAR: CHASE RETTIG
After BC's loss to Virginia Tech, it was pretty clear that this team would not be going anywhere with Shinskie or Marscovetra starting at QB, so Spaz finally turned to Rettig for the Notre Dame game. Since, Rettig has distinguished himself as the guy and excited fans for the future. Although his numbers were not flashy, he did more than Shinskie and Marscovetra could ever do and got this team to a bowl game.
COMEBACK PLAYER OF THE YEAR: MARK HERZLICH
C'mon is this even a question? Everyone knows Mark's story. This season, coming back from Ewing's Sarcoma, Mark was not his 2008 ACC Defensive POY form, but was pretty damn good. He kept getting better and better every week. I thought he had great games to finish the season out against Virginia, Syracuse and Nevada. Hopefully he can have a successful career in the NFL.
MOST IMPROVED PLAYER: JIM NOEL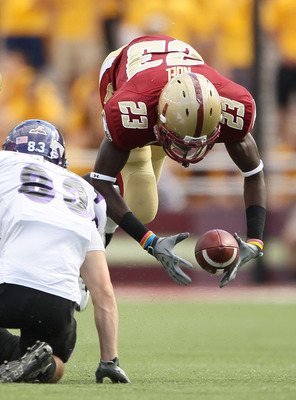 Some may disagree, but I believe Noel was one of our best defensive players by the end of the year. Noel, a sophomore, did not receive much playing time last year and at the start of this season. However, after starting safety Dominick LeGrande was suspended for the FSU game, Noel got the start and never looked back. He had two picks and returned one for a touchdown in that game. He finished the year 4 INTs. I am excited to see what he'll be able to do next year.