In a down year, there are a lot of things you can point to that went wrong. I thought of three things that stuck in my head.
DAVE SHINSKIE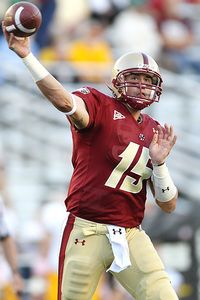 Shinskie by no means had an outstanding 2009 season, but gave fans reason for optimism. Fans saw some flashes that told us he could be pretty good if he developed and improved over the offseason. But no, if anything, Uncle Dave got worse. His season started terribly after he threw an INT on his first pass against Weber State and it just went downhill from there. After another non-spectacular showing against Kent State, Shinskie laid an egg against Virginia Tech, leading BC to their first shutout since 2006. Finally, Spaz pulled the plug on Dave and handed the starting job over to freshman Chase Rettig.
OFFENSIVE LINE
Returning 4 of 5 starters, the O-line was supposed to be the strength of this team on offense. However, the group struggled throughout the start of the season. Although it was not all their fault (defenses did not play the pass), but Montel could not find any holes. There were a few injuries and Claiborne and Spaz had their troubles, but they should have performed better. They did not live up to expectations. Castonzo, who was a projected top 10 pick going into the season, performed well but even his draft stock dropped a bit.
COACHING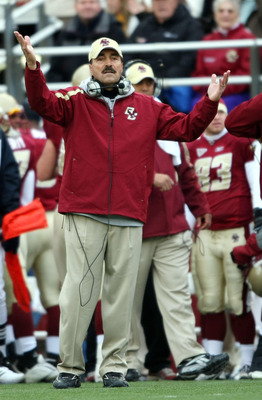 This was probably the worst part of the season. I did not completely hate the Spaz hiring, but I was never a fan of Tranquill. Both of them had horrible seasons. Spaz had terrible clock management and let Tranquill carry on his boneheaded playcalling. Both of them are responsible for the disaster that was BC's offense. Both of them are responsible for wasting a great defense. Thankfully, Tranq retired after the game and reportedly Ryan Day will take over as OC. But, we're still stuck with Spaz.